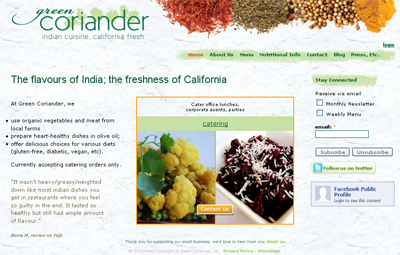 Client Requirements:
This site is basically designed for catering. So the basic need was a easy way to add the weekly menus to the site by site editor and user should be able to place order for the meal online. The menus and dishes should be categorised in different categories. And need a e-commerce suit for using payment gateway to the site.
Why Drupal:
Since the major part of the site was taking online order of the food and managing the orders status and the deliveries the best solution was using Dupal e-commerce suit with one of the payment gateways.
Implementation Details:
For the online payment we have used Ubarcart and customized it according to the requirements and the template designs provided by client. The food menus and dishes are added using a custom content type. The food is categorised using taxonomy and taxonomy image. To subscribe for the weekly menu and the monthly newsletter the simplenews multiple signup and simplenews on register modules are used. Currently the site is only accepting the catering orders.