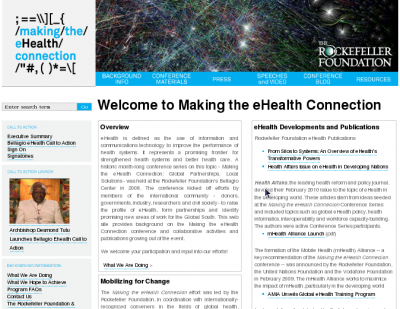 Client Requirements:
eHealth connection is a conference specific site. This conference is supported by the Rockefeller Foundation and its partners. The client wanted the ability to upload the background information, conference material and resources before the commencement of the conference and the ability to upload speeches and videos and allow participants to blog as the conference progressed. They also wanted a petition functionality wherein a user could sign a petition on the site and also see other people who have signed the petition.
Why Drupal:
Drupal allows us to create various content like video, audio, images with ease. This along with the ability to categorize the content, the blog and the comment feature compelled us to opt for Drupal as the underlying content management system.
Implementation Details:
We created different content types for Background Information, Conference Material, Press Release, Resources and Speeches & Video. This made it very easy for the site editors to enter data on the site. We used the flashnode module to upload videos on the site since videos in only flv format needed to be uploaded. The design was given to us by the client. We created a custom theme to implement the design. The petition feature was implemented by a custom module.