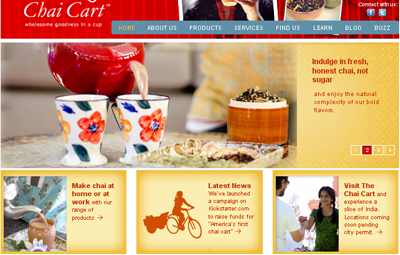 Client Requirements:
The Chai Cart has its roots in San Francisco's street food culture. A good and healthy tea (Chai) is provided on streets using a cart. Catering of events is also available. The client's requirements were a simple site where user can read the Blogs, See the photo gallery, Contact chai cart for any events catering, find out what are different products and flavours available for Chai. And on homepage add some highlighted content.
Why Drupal:
All this can be achieved using some of the drupal most used contributed modules. And It easy to manage the content using Drupal. The another requirement was porting of blogs from wordpress to Drupal. This is possible with one of the drupal contributed modules.
Implementation Details:
Since Drupal 7 is Out and has almost all the essential modules ported to D7 it was easy to build the site in Drupal 7. The highlighted content on homepage is gained using views_slideshow and nodequeue modules. Porting of blogs from wordpress to drupal is done using wordpress_import module.